Welcome to Jenna's Busy Little Bees
Infant Day Care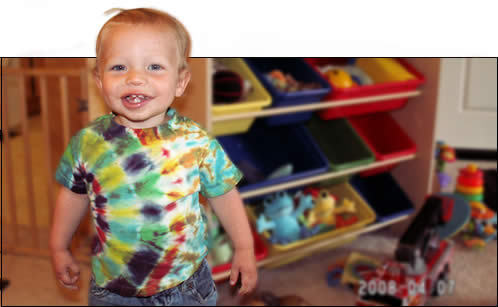 Philosophy
With infants, I work to provide an environment as comfortable as possible – warm and welcoming, cozy spaces, photos of family, and developmentally appropriate toys. Caregiving activities such as feeding and diapering are warm, consistent and individualized. These routines are viewed as opportunities for children to receive undivided adult attention and to promote language, self awareness and social skills. The infants' pre-existing patterns for feeding and sleeping are respected and incorporated into the child's routine. Consistency in routines and schedules allow children to anticipate what is coming next, thus transitions are predictable.
It is my belief that all children deserve to be treated with respect and understanding, something that they will always be given at my center.
Importance of Play
If I had to choose one important thing that I learned while working at the UCSB children's center, it was the importance of play. In my home, children will learn through play, which means that I will strive to always have new and exciting activities that will help to promote their stage of development. Not only will I be using toys and activities to stimulate your child's mind and encourage their motor skills, but books and songs will be an integral part of our day. I also will continue to take new courses on child development; as this is an exciting field that is always coming up with research and activities for child care providers to meet your child's needs in the best ways.
About Me
I have been working with children in this field for six years now. I started out as a nanny, and worked my way into being a teacher's assistant for two years. With the birth of my son, I took off a year and went back to work as a teacher. I worked in both large and small classrooms, the age groups of the children that I have cared for ranging from 3 months to 5 years. After being a teacher in a larger classroom for over a year, I felt the need to open up my own home. It became clear to me that I wanted to be able to give children more one on one time, something that is more difficult to do in a larger classroom.
I have my Associates in Child Development, as well as holding a licensed teaching certificate. I am fully trained in CPR and first aid and am continuing to take child development classes so as to stay up to date on this ever expanding field.
I strive to create an environment that is conducive to your child's particular needs, while encouraging your child to grow with their individuality and skills. Making a child feel respected, valued, and loved will always be my goal. I value the diversity of each family and the dynamic that they bring to my center. I look forward to meeting your family and welcoming you into my home.